Human beings are storytellers. We take what we see and experience and create stories about those experiences. We take the concrete facts of life and weave fictions about what they mean, who we are as a result, what our expectations are, etc.
History
For at least 40,000 years, our species has been perfecting the art of fiction — we evolved from a species that communicated information (there is a lion in the bush, run!) to one that also communicated ideas. (the Lion is our Clan symbol, it is our protector.)
According to Yuval Harari's book, Sapiens, A Brief History of Humankind, during the Cognitive Revolution (between 70,000-40,000 years ago), we also began doing art, developing religion, commerce and social stratification. By creating fiction — that is, stories about things that do not exist in a concrete fashion — we were able to go from small tribes of 150 or so individuals to large groups that identified themselves by symbols and stories: "We are the Lion People" brings with it an entire narrative of identity that is passed down generation to generation.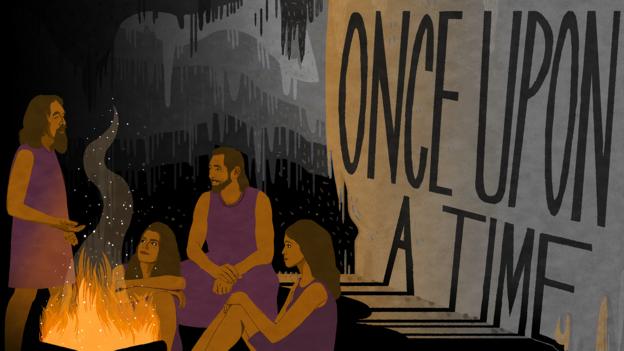 Consider all the many hundreds (if not more) of stories we hold as "truth":
What is means to be an aging woman;
My religion or spiritual beliefs;
My political affiliations;
The meaning of my Life.
And I could go on and on!
OK, So What?
Our stories are who we are, who we believe ourselves to be. They dictate the decisions and actions of our lives. They give our lives shape and meaning. But, they can also separate us from each other. How many millions of humans have been slaughtered over time because of different stories? Unfortunately, we tend to demonize those who do not believe in the same stories and create enemies. But, we can change our stories.
Our larger stories are easy to identify, but the smaller, internal ones may not be so easy to figure out. We internalize stories as children based on how we were raised and taught. For instance, although I rejected Catholic dogma many decades ago, healing the deep stories about who I am (my worthiness, my goodness or lack of it, lovability, guilt, etc.) is a lifelong process. For many years, I was not conscious of these stories, but they dictated what I believed to be true about myself, who I chose as a partner, what my chances of success were.
In Coaching, we take a look at what our stories are and try to become conscious of those deep stories that no longer work in our favor. Once you are conscious of your stories, you can choose: Is this what I want to believe? Is this helpful? What is another story that does work for me and will help forward my life?